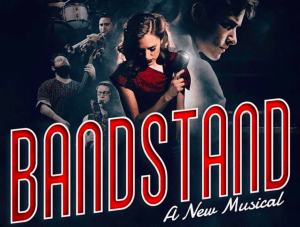 It wouldn't be right not to honor the purpose of Memorial Day a give our salute to all the service men and women who have dedicated their lives in Military Service.  To do this – we invite you all to take a walk down memory lane with us and revisit Bandstand, a musical that dealt boldly with PTSD and the reality of what happens when soldiers come home from war. 
Broadway Maker's Alliance very own Broadway Wiz interviewed the cast and published a wonderful article. You can read it here.
It's Broadway's way of contributing to the healing – because – Art heals the soul. "And we're lucky enough to have a passion in our life that speaks to truth for us … that that future will open up to us." – Andy Blankenbuler
Check out the cast singing "First Step's First" 
What will YOU do with your Memorial Day off?  We've got some Broadway style recommendations for a little Musical Theatre "Staycation"!
Musical Theatre Listening Party: Using Memorial Day to get stuff done around the house? Turn on one of these awesome Broadway-themed podcasts and fill your ears with all the fun of Broadway while you get down and get productive.
· Entrance Productions Podcast
Kick Back and Relax:  We've all heard that coloring is a great calming tool – but it's even better when it takes you back to your favorite Musical Moments!  Revisit those lyrics that touch your soul!  Try some of Coloring Broadway's digital downloads – get out your Sharpie markers, turn on your Show tunes and get creative!
Musical Theatre Read-a-thon:  There's nothing like a day off to catch up on all the Broadway News!  We've got some Broadway Makers Alliance Members that are perfect for that!  Take a look at all the interviews, reviews, and Broadway information at your fingertips!
Fan out about FAN ART! We have some super talented artists at Broadway Makers Alliance. Take a look at what they've created from their love of musical theatre. Are you inspired yet? Do you need it in your life? We thought you would! We might even guess that some of these makers are running a Memorial Day sale … J
· Tatro
For our New Yorkers!
· PETITE SEAT! Parents check outPetite Seat and their kid-centric theatre recommendations. Check out their Instagram (@petiteseat) and their website – https://www.petiteseat.com/
· Broadway Up Close Walking Tours: Broadway Up Close gives you a "behind-the-scenes" look at Broadway theatre. Their tour guides are professional working actors and stage managers – so you get the insider info and stories from current and past shows that have graced the Broadway arena.